Printing Techniques
In our workshop we print classic printing techniques with the help of modern facilities.
Each project is unique and requires an individual approach.
Lithographies
Around 1800, Alois Senefelder invented printing from stone. Lithographs are still printed from Solnhofen limestone today. As a forerunner of offset printing, this technique was primarily used for commercial applications and reached its peaks around 1900. We still print lithographs for artists today using the machines from that period.
In addition to the stones, modern offset plates are also used, which can be exposed either analogue using hand-drawn transparencies or digitally with data transferred directly from the computer.
Etchings
In its long history etching has experienced highlights over and over again. From early times, the outstanding copperplate engravings by Dürer or Piranesi are very well renowned. Goya then brought aquatint, a process for etching surfaces, to its peak.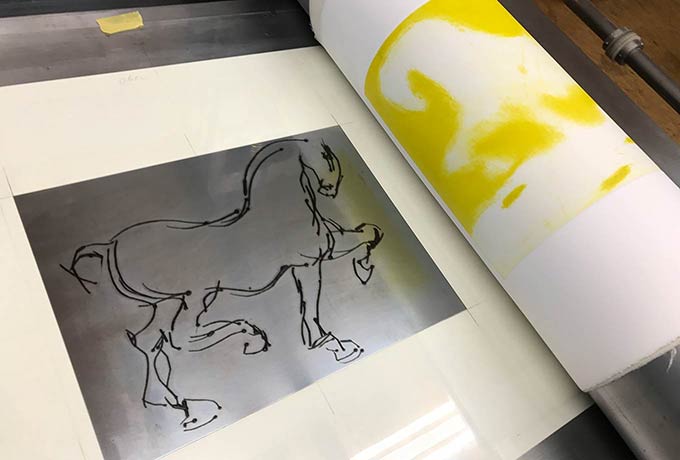 The advantages of etching are the haptic experience of feeling the printed, raised lines with your fingers on the paper and the possibility of creating lines with a fineness unlike any other manually produced printing process. In the past, etching was done exclusively with acids. Today it is also possible to etch galvanically using electricity.
Photogravures
With heliogravure, modern technology has opened completely new doors. A highly toxic process from the early days of photography has been transformed into a technique that today requires no chemicals at all in the printing workshop.
The films are printed by inkjet. The printing plates are cliché plates, as used for letterpress printing, which are washed out with water only after exposure. This makes larger formats possible without any loss of quality compared to the old process.
Wood Cuts and Lino Cuts
The woodcut is the oldest printing technique. Nevertheless, this technique is still highly appreciated by artists today and translated into a modern visual language.